The Testimonials below fall into three categories:
Hypnobirthing Workshop
Previous one-to-one clients
Hypnobirthing Training Workshop
Testimonials – Hypnobirthing Workshop
Jackie Perez, Purley, Surrey
The course is very informative and it covered individual concerns which is very important as it puts one's mind at rest. There are lots of handouts in case you forget anything. Paola is very passionate and positive so this cannot help but rub off on you.
baby Freya and mother Jackie
Jackie sent me an email 8.9.2008
I met Paola originally through networking and knew that if/when I ever got pregnant I would approach her for the hypnobirthing she specialises in. I did get pregnant and I booked one of Paola's hypnobirthing courses for my partner and I. Before attending it would be fair to say I was very nervous at the prospect of giving birth as most of the stories I had heard about the birth process were rather horrific!
I found the hypnobirthing course to be interesting, relaxing, informative and most of all I came away feeling confident and calm about the birth process. It makes such sense that if you remain relaxed during labour using any number of techniques given to you that you are going to have a wonderful experience. My partner also found the course to be very informative and enjoyed it.
Paola gave me a CD to listen to as much as I could. While I was working I listened to the CD about 3 times a week and this increased nearer to my due date. I found the CD to be wonderfully relaxing and really believed it was having a positive effect.
When labour started my partner and I put the techniques we had learnt into practice. I visualised my beautiful beach, did lots of deep breathing and this really helped, alongside the tens machine. After a good few hours my labour pains accelerated very quickly and I did then need extra pain relief. At this point I called Paola and she talked me through the next half hour or so, on the phone, until I got to hospital and then received the gas and air I needed. As it turned out Paola ended up attending the birth of my beautiful baby girl. She was an amazing support to me and it was great to have her there. I had the wonderful natural childbirth that I wanted and I genuinely believe that the relaxation techniques really helped throughout my labour.
Labour is hard work, and I found it to be exactly that. At times the contractions were very intense, but with the techniques I learnt from Paola I believe I remained calm and this is what helped me through. I certainly won't be passing on any horror stories about my labour.
I would recommend that anyone pregnant attends the hypnobirthing course! My partner also found it helpful in knowing the best way to help me stay focused.
Comment from Paola.It was a wonderful experience and, an honour, to be present at the birth. Jackie did really well and was in control at all times and so achieved the natural birth she so wanted with ease.
Evey Allsopp, Bromley, Kent
The workshop put my mind at rest, left me feeling excited and looking forward to the birth.
Mathoothe Mositi, Huddersfield, West Yorkshire
The teaching was clear and simple, easy to understand and has reduced the fears I had about birth and breast feeding. In fact I have now decided to breast feed and I can't wait for the experience of giving birth and being a parent.
Mary Prior, Anerley, SE20, came for her second baby
It's great to take a day out of your hectic life and slow things down! I really enjoyed being hypnotised.
Hayley Perez, Purley, Surrey, came for her second baby
I really enjoyed the biology lesson and the three stages of labour and also learning to go into deep relaxation. After the course I felt my anxieties were slipping away and I felt more confidence in myself to deliver a natural birth. NOTE: Hayley's first birth was long and she had considerable intervention. The second birth turned out to be very quick indeed occurring as soon as she arrived at the hospital!
John Perez (Hayley's Husband)
I feel empowered and confident now going into the birth.
Kate Georgiev, Bromley, Kent, came for her first baby
A really enjoyable day. I am looking forward to practising hypnosis and using it for my wonderful, happy childbirth.
Martin Georgiev (Kate's husband)
Thank you very much for the wonderful course, it was really helpful.
Mark Cousins, Beckenham, Kent came with his wife for their first baby 2011
As a to-be-father I thought this course was fantastic. Not only does if give some great techniques to help your partner through a wonderful birth it also empowers you to use these techniques for any event in your life.
Paola is articulate, incredibly knowledgeable and gave a great course which is highly recommended!
Rachael Beesley, Orpington, Kent came with her husband for their first baby 2011
Paola came highly recommended and having enjoyed the hypnobirthing workshop today I can absolutely see why. I started the day feeling apprehensive about the birth and I'm leaving feeling confident and excited. She empowers you to believe you are in control and I'm looking forward to incorporating the CD into my daily routine. I loved that the baby will resonate with the sound track post birth and it will be another tool to help soothe the baby when needs be.
Thank you Paola, I'll certainly be recommending you to every pregnant woman I come across.
Sue Penfold, Croydon, Surrey, came with her partner for their first baby 2012
Both my partner and myself were unsure about hypnobirthing. However, keen to have as natural a birth as possible (and with an open mind) we went along.
Paola listens to your individual and partner's needs (even in a small group class like we were) and these are carefully considered and adapted to the techniques from her book to make them more relevant and helpful to you. Looking forward to the last 13 weeks of my pregnancy.
Paola has been very supportive, passionate about hypnobirthing, and I'm looking forward to a 'relaxful' and as 'painless' labour as it can be. Get me home to read the book and listen to the CD!!
Sue sent me this text 25th April – Oliver was due 8th May and arrived 12th April!
Hi Paola, just wanted to let you know that Oliver surprised us by arriving three weeks early – born last Thursday at 9.00pm. I decided to run a bath at 4.00pm as I was uncomfortable and ended up sitting on the loo for ages. Every time I tried to put my pyjamas back on, I kept flowing watery blood. Thought I was doing a big poo and honestly didn't even realise I was in labour! Dan came home about 6.50pm and finished getting hospital things together. In the meantime my contractions became more regular VERY quickly. We called hospital and Dan's Dad came round to drive us to hospital. Oliver couldn't wait. Dan came to help me, and saw the baby's head already crowning! Called 999and just as Dan thought he would have to deliver the baby, 2x ambulances showed up. Barely had two puffs of gas and air, but baby's head was almost out anyway! Can't figure out how long labour actually was, but assuming say 5.00pm or so …….no more than 4 hours!
Sue & Dan (Penfold &Wright)
Daniel Wright (Sue's partner)
I am a complete sceptic and never believed in hypnotherapy but this is due to stage shows on TV, which are false.
Paola's hypnobirthing is completely different and teaches mum-to-be how to prepare and cope with the whole process. She also gives great advice for dads-to-be (like me) as well as many other important tips. Paola is a great teacher with experience that shows. I learnt much more than I expected. It's all about mind over matter as is a fantastic course. Thank you!
Suzanne Roberts, Beckenham, Kent, came with her husband for their first baby 2012
Highly recommended to all. Very inspiring and positive experience.
Suzanne sent me an email 20.2.2012
Hi Paola
I just wanted to say thank you for the hypnobirthing workshop in West Wickham.
I have been sleeping so well since which is wonderful and gives me even more confidence in your beliefs and this method.
Thanks again, Suzanne
Shaun Roberts (Suzanne's husband)
I found the course very calming. It gave positivity and affirmations that normal childbirth is 'normal' and should not be feared.
Liz Emtage, West Norwood, London, came with her partner for their first baby 2012
I feel more confident having done the course.
Geoff Osler (Liz's husband)
Felt it was very instructive for my wife and empowering.
Fiona Copus, Bexleyheath, Kent, came with her husband for their first baby, August 2012
I felt very relaxed as soon as I spoke to you on the phone and even more so when meeting you in person. The day was very informative and interesting. I'm so glad we were able to get a place on your course.
Fiona sent me this email 19.11.2012
Hi Paola
I just wanted to let you know that we had our baby boy, Oliver Copus on 17th September 2012.
I had a very positive birth experience thanks to the hypnobirthing workshop I attended with my husband Phil back in August (11/08/12) and Phil was invaluable to me during the birth particularly helping me with the 3 breaths which helped me through the whole labour with a little gas and air towards the end. Unfortunately Oliver had the cord around his neck so after 12 hours I was taken to theatre for a forceps delivery and had to have a spinal injection (which was the worst part not being able to feel anything) but I am fully recovered and all are doing well.
I have attached a picture of our bundle of joy and thank you for all your help and guidance.
Kind regards
Fiona, Phil & Oliver Copus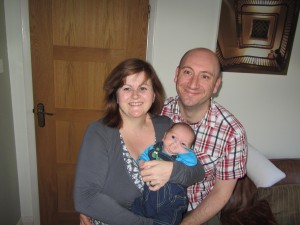 Fiona, Phil and hypnobirthing baby Oliver
Fay and Jonathan Lawson, Bexley, Kent, came for their first baby March 2013
Fay said – This workshop has increased my confidence in my body to have a natural birth and has made me aware of how to deal with negative thoughts.
Jonathan said – Very friendly atmosphere, very informative and really good for getting answers to all of the questions we still had.
Fay sent me this email 13th March 2013
Hi Paola,
Just thought I would send you a quick email to say thanks for the recent hypno birthing session we attended. I had a great birthing experience and gave birth to a gorgeous baby boy, Joshua Leo Alfie Lawson, last Wednesday (6th March). I had a water birth and gas & air and the hypnobirthing session really helped me remain in control and have a positive experience.
Many thanks,
Fay Lawson
Alexi Vasilou, Orpington, Kent came with his wife for their first baby March 2013
Although I am a cynic, I thought a lot of the explanations made good common sense.
Deborah Upchurch, Kent came with her husband for their second baby August 2013
I really enjoyed this workshop and will definitely be using the techniques in build up to the labour and during birth. All the skills will be useful for life.
Debbie's first birth was traumatic and
Debbie sent me this email of her birth story 17.9. 2013
Hi Paola
I just wanted to send you my deepest heartfelt thanks for your hypnobirthingCD and workshop. My husband Ben and I attended your workshop on 10 August at 36 weeks and it was a crucial part in us achieving a wonderful natural home birth.
I listened to your CD every day from 36 to 40 weeks and it worked wonders for me. In the run up to my due date I was so relaxed and, despite a traumatic and dangerous birth with my first child, I felt no fear – I was in a bubble protected as you said from negative thoughts and fear.
My waters broke naturally one day after my due date (6th September) and I was instantly flooded with excitement – contractions did not start for me until the next day but that evening I couldn't sleep as I was so excited! A miracle considering it had taken me 3 years to even consider having a second baby due as I had been so scared after my first experience.
From the start of strong regular contractions to my baby boy being born in a pool at home was just 5 hours and I used the breathing techniques and visualisation along with a tens machine and later gas and air. I stayed relaxed and although I needed an episiotomy with my first baby this time I had one small tear – no stitches. I put this down to how relaxed I was.
So thank you Paola, your CD played a huge part in not only allowing me to experience a natural home birth but also to heal the emotional stress left over from my first birth. I think your CD should be available to all expecting mothers – it's worth it's weight in gold.
Debbie Upchurch
David Murphy came with his wife for their first baby January 2014
Thanks! Feeling more relaxed now!
Tina Newman, Bromley, Kent, came with her husband for their first baby – February 2014
I found Paola extremely friendly and helpful right from our first email, which made it all a very pleasurable experience even before I came on the course. It has made me feel a lot more relaxed and equipped for the birth of our baby now.
Peter Newman (Tina's husband)
Had a fantastic day, really informative. I now feel I have all the tools needed to support my wife. I can't wait!
Tina sent me this message via FaceBook to tell me her birth story 28.4.2014
Hi Paola. Just wanted to say me and Pete are delighted to have a daughter I gave birth on Saturday and my whole birth plan went out the window which was a shame as I had been so looking forward to trying out the new state of the Art birth centre at Lewisham! However, because madam had other ideas (lots of meconium in waters) I ended up having what I would have said was probably my worse case scenario being in the labour ward strapped up to every machine going, having restricted movements,being on a drip stuck to the bed and them attempting to put canulars in my hands 5 times during intense contractions…failing and being left with extremely swollen hands which felt like they were going to explode every time they did my blood pressure! haha. BUT putting that aside, after 10 hour labour she was here and I don't think I would have handled it all so well if it hadn't been for all the hypnobirthing!! I did it all with my tens machine and some gas and air towards end and it was fine! A really positive experience!! I used the visualisation techniques I had been practising over the last few weeks and stuck to my breathing the whole way through even when I was getting contractions over 100 with no breaks in between so you would have been proud. Thanks once again for helping us have the best birth experience possible xxx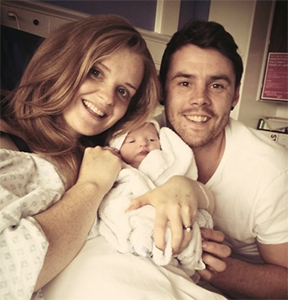 Tina and Pete with just born Lyla
Tina's husband Pete sent me this email 17.5.14
Hi Paola, I know Tina dropped you a message which I've read but I'm sorry, I just had to tell you the whole truth because she is being modest, very modest!
She absolutely smashed it, I couldn't believe what I was seeing! First of all there was the HUGE disappointment of not being in the birthing centre, which Tina had so so been looking forward to. I mean she had the whole thing planned in her head and then bam that wasn't going to happen and suddenly her worst nightmare starts to become a reality. They are telling her she's on a time limit and then they will have to induce her and she will need an epidural. We had a 30 second prep talk and she was fine, her attitude and frame of mind was incredible. She was so focused on being positive and was clearly trusting in all she had learned from the hypnobirthing that she was like 'I can't change the circumstances I'm in but I can do this whatever is thrown at me'. Paola, I was so proud and it just got more and more amazing as the day went on.
When a situation arose Tina embraced it and just breathed through it. There is no way I could have done what she did. I'm not joking but she made the whole thing look easy. It's ridiculous, she didn't moan or complain, not even make a noise she just stood or lay there focused, calm, relaxed and silent, breathing through each contraction. I'm not saying it was a walk in the park for her although it came across like that because it was certainly intense at times but it didn't faze her.
I wholeheartedly believe that she coped and enjoyed the birthing experience because you opened our eyes to what birth actually is and can be like. So many people tried to tell her horror stories and project their negative experiences on to her whilst she was pregnant (why, I will never know) but I have seen with my own eyes it does not have to be like that, nor should it be.
I am so so proud of Tina for carrying our beautiful baby girl for 9 months and then bringing her in to this world in such an amazing and natural way even when the odds were stacked against her at times. I tell everyone about you Paola and the hypnobirthing and recommend every woman to do it because it works. Tina gave it everything during her pregnancy and I feel that that is crucial and that you commit to it 100%. She read and re-read your book and did your CD everyday and it more than paid off; so thank you, thank you, thank you, best day of my life!! Pete
Tina Newman – sent me a message via my Facebook page 6.1.2016 to tell me about the birth of her second daughter
Just to let you know Paola, I had my second beautiful girl on New Year's Day – read my book, listened to your CD again and followed all of your advice again and had a very quick but wonderful Homebirth, in only one hour!
Cassie Cannon, Welling, Kent, came with her husband for their first baby – February 2014
The course gave me so much confidence and knowledge. I'm so excited to experience my first baby being born and know I have the tools to have a wonderful, emotional and relaxed experience. I think all new mums should do hypnobirthing!
Daniel Cannon (Cassie's husband)
Really enjoyed it. Opened my mind to it and believe it can really help, not just the mum but also the dad and get him more involved in it, and feel more involved in the birth. The workshop was a great help!
Christopher Worthington, Staplehurst, Kent, came with his wife for their first baby – April 2014
In my opinion, future Dads should start reading up on hypnobirthing as early as possible. I found the biology explanation of the labour stages the most useful part of the course for me. It is important to actually know what your wife is going through and what her body will experience and very early on establish a method of support and reassurance for her.
Kate Wensley, Beckenham, Kent, came with her partner for their first baby – April 2014
Paola is excellent at explaining and teaching – I felt very at ease during the workshop and came away feeling empowered and confident. I believe that we can have a normal, Pain-free, drug-free birth.
Clare Kemp, Chislehurst, Kent came with her husband for their first baby – May 2014
Thank you for putting us both at ease and making Jamie less sceptical ……..
Emily Hoar, Orpington, Kent, came with her husband for their first baby – June 2014
The whole day has been brilliant! Combining the knowledge of biology with the hypnosis was brilliant and gave me a great confidence in how amazing my body is. The workshop in fact exceeded my expectations. Thank you, I am really excited about the rest of my pregnancy and feel calm and confident about what is to come.
Ben Hoar (Emily's husband)
Everything was very informative and relaxed. First time I have really relaxed in years! Biology part was very interesting and the hypnotherapy not scary at all.
Rebecca Titcombe, Bromley, Kent, came with her partner for their first baby – August 2014
The workshop was clear and informative. it was friendly, relaxed and helpful. I appreciated the contacts for local yoga etc and the products to use re and after the birth.
Anthony Cockell (Rebecca's partner)
I think it is great that the teaching of hypnosis is married closely to science and biology, making it a far more easy to utilise tool.
Lauren Hickey, Selsdon, Surrey, came with her husband for their second baby – September 2014
Really given me a confidence boost. Paola spoke to us all and made it relevant for everyone. She covered things which were very interesting and informative to help with pregnancy, labour then on to looking after the baby. I feel happy and confident in my body! I can and will do this.
Padraig Hickey (Lauren's husband)
It has given us the piece of mind that everything is possible to overcome.
Lucy Hicks, Croydon, Surrey, came with her husband for their first baby – September 2014
As a first time 'older' mum it has given me the tools I need to believe in myself, nature and my body's ability to give birth naturally.
Charlotte Crowther, Canterbury, Kent, came with her husband for their first baby – September 2014
Having gone through the Practitioner's course, I found the workshop extremely useful and informative. It has totally changed my attitude to birth and I can't wait to have the experience myself and impart my knowledge to others.
Christopher Crowther (Charlotte's Husband)
The course has been excellent for giving us the tools to manage our impending childbirth with confidence and greater knowledge. Highly professional and very friendly.
Charlotte sent me this testimonial 13.2 2015 – Baby Eliza was born 22nd December 2014 by C-Section
First & foremost, I would like to thank Paola for all her support throughout my pregnancy & in the first days of becoming a Mum.
I first met Paola as a newly qualified hypnotherapist, when I attended her Inner Power Practitioners Course. Little did I know that in 10 months time I will be using the training techniques during my own labour!
During my pregnancy, I stayed in contact with Paola. Having miscarried last year, I was extremely anxious throughout my pregnancy; especially at scan appointments. However, with my training as a hypnotherapist, Paola helped me to develop a program which encouraged me to relax and address my anxiety concerns.
Attending Paola's workshop for expectant parents not only gave me a great insight on how to structure my own hyonobirthing sessions, it was also a great opportunity for my husband to prepare for his new journey into fatherhood.
Although I did not have a natural birth (our little princess refused to engage), I found the knowledge and techniques I had been practising when using 'Birth Made Easy' empowering. Spending over 48 hours on an induction/labour ward is very unnerving for an expectant mother. However, the hypnobirthing techniques I had been rehearsing, allowed me to travel to my 'special place' and to focus solely on the delivery of my baby. Using Inner Power hypnobirthing, my body & mind worked together, allowing me to dilate to 7cm with absolutely NO pain relief & a back to back baby. Even the consultant congratulated me!
Paola's teaching is second to none. As a fellow teacher myself, I found both of her workshops informative, pacy & engaging. No question or worry is too silly and time is taken to thoroughly check everyone's understanding.
Paola is a true professional, a master of her craft & much more than 'just a teacher'.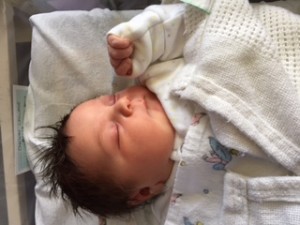 Baby Eliza
Amy Foster, London, came with her husband for their first baby – September 2014
Paola made me feel really comfortable during the course and it was very informative and enjoyable.
David Foster (Amy's husband)
It was good to have questions answered throughout the session. The positive attitude and approach was exciting and engaging. Thanks again.
Caroline Lewis, Bromley Kent, came with her husband for their first baby – October 2014
This course has really helped me to relax and feel ready and confident for the birth. Thank you.
Andrew Lewis (Caroline's Husband)
Well presented and extremely informative.
Hayley and Neil Doorne, New Addington Kent, came to see me for their second baby – October 2014 – sent me this message via my FaceBook Page
My husband and I are now feeling very confident about our second child being born after yesterdays training in hypnobirthing.
Our first born was delivered by emergency c-section after 51 hours of labour and he also ended up in special care, that experience left us feeling extremely anxious and negative about this second pregnancy and with the birth approaching in just under 3 weeks we decided to give hypnobirthing a go.
We have come away feeling so happy and actually looking forward to giving birth naturally. I feel like I've got some control back and can put my past experience away and focus on this second birth much more positively. 
Paola is extremely passionate about hypnotherapy and such a great teacher. 
We would highly recommend anyone pregnant to go and have hypnobirthing, its so informative from the biology to breathing to overall positive thinking and she gives you tools to use which can be used in everyday life too. 
So thank you so much Paola, we look forward to letting you know how wonderfully well our birth goes. Hayley and Neil Doorne
Hayley sent me this email 5th November 2014
Hello Paola
We have got a beautiful daughter Georgina.
Thank you so so much for your hypnobirthing workshop.
I cannot put into words what an amazing experience we had.
I had to go into hospital Friday straight after a sweep as my blood pressure was very high all of a sudden. While I was being treated I started getting contractions and I was excited! Not scared at all and I was looking forward to each contraction as they came and went. My blood pressure didn't go down so I had to stay in. They wanted to induce me but I decided against it so Sunday morning I had another sweep at 4cm as things were moving slowly. I focused on everything you had taught us and used the CD and within 2 and half hours I was fully dilated and she arrived at 1.32pm. It was amazing!!
I can say I actually enjoyed giving birth.
Unfortunately I got 3rd degree tear and had to have a spinal and was in theatre for a while away from my Georgina but I've managed to get her on my breast and having as much bonding time as we can.
I can see where this birth could have gone if I hadn't had hypnobirthing and I wouldn't be in the happy place I'm in now so thank you so much!
We will be recommending you to everyone we know.
Thank you
Hayley & Neil xx
Rebecca Johnson, Bromley, Kent, came with her husband for their first baby – August 2014. She sent me this Testimonial 16th November by email. Her Daughter was born October 4th by C-Section.
Paola has an exceptional ability to explain birth and the basis of hypnobirthing in a clear, logical and down-to-earth manner. There are many moments on her course where I thought "oh right that makes sense" or "oh I see that finally explains that".
Although I unfortunately had to have a c-section, my husband helped me with focusing on my hypnobirthing visualisation. This kept me calm and helped the surgery go quickly. It was an excellent procedure, with none of the drama associated with placenta previa c-sections and I healed up really quickly.
I can also highly recommend the MP3's available, they help to keep you focused on the positive and relax.
Thank you Paola hope our paths cross again
Best wishes
Rebecca Johnson McTimoney Chiropractor BSc Hons MMCA MICAK
Lauren Burroughs, Westerham, Kent, came with her husband for their first baby – December 2014
Such a calming environment. It was great to actually hear about the positive aspects of birth.
Lee Burroughs (Lauren's Husband)
Very Relaxing and informative.
Kathryn Moore-Bick, Orpington, Kent, came with her husband for their first baby – December 2014
A very useful and reassuring day with lots of practical hints and tips as well as the self-hypnosis, which has wider applications than just for birth. I am looking forward to putting it into practice.
Seetal Shah, Leicester, came with her husband for their first baby – February 2015
The course was brilliant. I was extremely anxious about pregnancy and childbirth before it. Now I cannot wait to finish pregnancy and give birth naturally.
Hiren Patel (Seetal's Husband)
A very well structured and informative course. Lots of tips for first time parents, both for mum and dad to be.
Lesley Turpie, Beckenham, Kent, came with her husband for their first baby – March 2015
It was a wonderful day and I can actually say that I'm now looking forward to the birth.
Alex Turpie (Lesley's husband)
A relaxing and informative day. I would recommend it to anyone worried about Childbirth.
Katie Hobbs, New Eltham, London, came with her husband for their first baby – March 2015
A fantastic session that has left me feeling much more empowered (and relaxed too!) about my forthcoming labour. Thank you.
Chris Hobbs (Katie's husband)
As someone who had no knowledge of hypnobirthing I found the course very insightful and detailed. I would thoroughly recommend this course to new parents.
Paul Clarke, Bromley, Kent, came with his partner for their first baby – August 2015
I would highly recommend the course to friends.
Lucia Jordan Gray, Orpington, Kent, came with her husband for their first baby – August 2015
I liked Paola's positivity to birth and excitement. It has definitely made me feel confident, and made my husband feel very much part of it and knowing how important a role he takes in the birth.
Lucia sent me this email of her wonderful birth story 15.11.2015
Dear Paola
I hope you are well. I wanted to let you know that we gave birth to a beautiful baby boy on the 5th November 2015- baby Luca Jordan Gray weighing in at 7lbs 11 ounces and he is absolutely perfect.
I wanted to email to thank you for all your help in the hypnobirth class I used all the techniques that you taught me and they helped so much.
I had a nice labour/ birth, bit of a funny one really as it doesn't pan out the way you think. I had early contractions starting from the Monday before waters broke Tuesday 4.00am but contractions weren't apparently close enough together when I went in to hospital to check so I was told so I had to book an augmentation for the Wednesday night/Thursday morning where they give you meds to stop infection if you go past 24 hours from waters breaking. I Got to the hospital Wednesday night the 4th around 11.30 for that, was examined and that's when I was told I was already fully dilated at 10cm and needed to go and have the baby!!!! (I told them my contractions at home had been strong all day but was told they weren't close enough when I had visited the hospital that morning). I couldn't believe I was 10cm already. I had used all my breaths that I learnt at my other class up until that point, kept on my birth ball, had baths, used my music that you gave me along with your new app and when they got really strong I used a tens machine as well and breathed with that. My husband Alan was a great support from the start of contractions to giving birth by timing my contractions, breathing with me when it got really strong, running me baths, massaging my back, talking me through my contractions I couldn't have done it without him.
So then I went to give birth and started bearing down and all going really well until right at the last minute we could see his little head and he decided to turn it. So was in a bit of a funny position so had an injection and forceps to just help turn his head but still managed to deliver him by pushing and he was out in about 4/5 pushes. It was incredible. Labour was only about an hour long or so in the end because he had been ready to come out for a while.
The midwife said that because I was so calm, breathed well and had a good pain threshold without many complications I would be perfect for a home birth next time so will consider that. She also said that she was surprised I didn't have him at home anyway!!!
So I just wanted to email you to thank you for all your advice and support. I used everything you had taught me and what I learnt at my hypnobirthing class all the time at home with my contractions and when bearing down and in the run up to it all and honestly feel that the birth of baby Luca was such a positive and emotional experience that we will cherish forever and we couldn't have done it without your help and advise.
Take care
Lots of love
Lucia and Alan and baby Luca xxx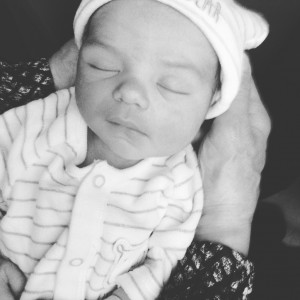 baby Luca a few hours old
Jo Webb, London, came for her first baby – September 2015
A really enjoyable and very relaxing experience.
Annabel Beales, London E2, came for her first baby – September 2015
She sent me this email about her birth experience in December
Hi Paola,
I thought I'd drop you an email to let you know that Liam James Baskett turned up 4 hours before his due date, at 8.20pm on 5 December. He weighed in at 8lb 6oz.
The hypnobirthing worked amazingly. From active labour to birth was just 3.5 hours, and I gave birth in the water using just gas and air. I listened to your free relaxation recording throughout and to be honest can't remember most of the labour, it seemed to go by quickly. My body is recovering well too. Although I am glad I don't have to go through it again anytime soon, the experience has been positive and so different from how I had initially imagined it. Thank you so much for helping me have the confidence to trust my body to know what to do.
Annabel x
Ruth Harvey, Orpington, Kent, came with her husband for their first baby – October 2015
Very reassuring and good to have lots of biological info too!
I hadn't allowed myself to think about the birth before today's session and now feel very reassured!
Ruth sent me this email 28.12.2015 about her birth experience and although it did not go quite as she had planned the hypnobirthing kept her calm throughout
Hi Paola
I hope you had a lovely Christmas and are enjoying having finished work!! I just wanted to let you know that Ella Alexandra Harvey was born on 14th December at 2.38am. I can't believe she is 2 weeks old already!!
I ended up being induced and then after 3 days having an emergency c section as all didn't go to plan! however despite all of that I found myself being a lot calmer both before the birth and then during the whole process than I had anticipated. I can definitely thank hypnobirthing for this!!
So, thank you again for all your help. I have attached a picture of Ella for you!!
Love Ruth and John xx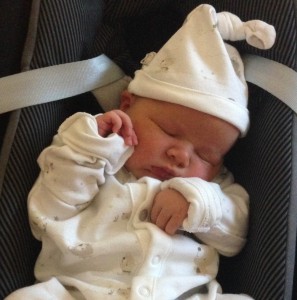 Baby Ella
Alli Gray, West Wickham, Kent, came with her husband for their first baby – November 2015
It's nice to attend a course that only promotes positive attitudes to childbirth and gives the men something to do rather than being left to feel helpless.
Faye Ceyhan , Beckenham, Kent, came with her husband for their first baby – November 2015
The course was really enjoyable and relaxing. I have never been hypnotised before and found it really enjoyable. I feel more confident in my body's ability and I feel more relaxed and excited about the birth. I look forward to sharing my birth story afterwards!
Faye emailed me with her birth story 2.4.2016 and although the birth did not go quite to plan, she remained so calm throughout that the doctors commented on this. Millie is also a very calm, happy baby.

Hi Paola
I came to your class in December and had my baby girl March 6th and wanted to tell you about my experience which is a very positive one despite a long and complicated Labour/delivery.
I went into labour on my due date after a wonderful pregnancy, your hypnobirthing class and app really helped me through some difficult sleepless nights due to being uncomfortable. I listened to the app almost every night, which really relaxed me and made me feel very positive. I spent most of my pregnancy feeling happy and excited to give birth.
My labour started off lovely, I was in the birthing pool and didn't find the contractions to be too painful – gas and air was taking the edge off nicely and I was actually enjoying the experience! However it all went wrong, as after 3 days and regular contractions I was only 4cm dilated so I was advised to have the oxytocin drip and an epidural as the drip can make contractions more intense. I decided to have the epidural as i was completely exhausted. I remained calm throughout and was very relaxed, as was my baby. After another 24 hours I was finally 10cm dilated and began to push but after 2 hours nothing was happening, my baby was stuck so the doctors told me i would need a C-section. I protested and after some debate they decided to let me try to deliver with forceps before trying a C-section and luckily this was successful.
I was wheeled down to theatre where there were around 15 doctors, which normally would be very daunting but I wasn't even phased one bit. I was so calm it was weird! Even the doctors remarked on my calm state and the fact that the baby's heartbeat was perfect! I made jokes throughout and felt completely fine. My poor husband was not, he was terrified as it was all very clinical and serious, the docs were prepping the room for me to have a c section and they told me I needed to get her out as soon as possible.
Millie was born after 2 pushes with the help of forceps and unfortunately I lost a lot of blood and I wasn't able to hold her, as I was so exhausted. After an hour or so in recovery we were taken to the ward and were both fine.
Your class taught me about speaking up and questioning anything you're not happy with so I am really grateful for that as this meant I didn't have to have a C-section. I didn't have the water birth I hoped for but I 100% believe the hypno birthing techniques helped me immensely through a 74-hour labour! Also Millie is the calmest most content baby I have ever known and I wonder if it's because of my state of mind during my pregnancy?
Although it was a traumatic experience I see it as positive, as when I look back I feel proud of how well Millie and I coped. Thank you so much.
Faye Ceyhan x
Nichola French, Orpington, Kent, came with her husband for their first baby – November 2015
Currently 31 weeks pregnant so we've got a good amount of time to practise the skills. Will be putting visualisation into my birth plan.
Dorota Radecka, London SE15, came with her partner, my son, for their first baby – December 2015
Thank you for making me more relaxed and calmer. I want to use the relaxation techniques to help me with better quality sleep too.
David Bagnall ( Dorota's partner and also my son, so it was wonderful to have my prospective first grandchild at my last ever workshop too!)
Perfectly presented and it helped a lot to be with other people who are expecting a baby.
Mike, Beckenham, Kent, came with his wife for their first baby – December 2015
We are having a happy wonderful birth!
NOTE – Mike is using a positive affirmation here! These were taught on the workshop!
Mike's wife sent me this email of their birth story 22.4.2016
Hello Paola
Just wanted to share the love and endorphins by letting you know that we welcomed baby Nina to the world on Monday 18th April at 11.03am! She was 13 days overdue but came of her own accord. She's an absolute joy!
Big thank you to Paola and to you all for helping us embrace Hypnobirthing – labour was really quite manageable! Contractions started at 21.45 on Sunday. Went into Hospital to check all ok and sent home with paracetamol! Told to come back when contractions were so powerful they would take breath away and stop me talking – dunno if that ever happened (Mike probably remembers better than me!) But at about 6am went in to check bleeding and was 9cm dilated!? Started pushing soon after. Unfortunately, baby was back to back and star gazing so after 2hrs pushing (still no pain relief) was taken to theatre for spinal and forceps delivery.
We are so immensely proud of our little girl. And wanted to thank you Paola for giving us the wonderful birth we hadn't dared hope for!
Love from us all x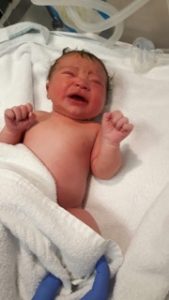 Siobhan McElhinney, WEst Wickham, Kent had attended my last workshop for her first baby which was a long birth. She got in touch for another CD for baby 2 born February 2018
She sent me this email 23.2.2018
Hi Paola,
Little Benjamin Jack Archibald was born on February 10th at 5.01am weighting 7lb 8oz.
I had an amazing birth, the water birth I had wanted, only in the water for an hour before he arrived. I was completely relaxed throughout and felt that my body took over to deliver him. Only took 2 paracetamol! My contractions were intense from the start as my waters broke before they commenced. However my visualisation and breathing got me through.
We are all doing well. Benjamin is feeding lots and I'm feeling exhausted, but know we'll get through it! Rory is a very doting big brother.
Thank you for the CD, it definitely put me in a positive state of mind for a wonderful birthing experience.
Many thanks,
Siobhan x
Testimonials – from previous one-to-one clients
Juliane Horne, Croydon, Surrey – first baby – 5.5.2001
All through my pregnancy and during the birth itself Paola helped me with her tailor-made hypnobirthing programmes. Any doubts or negative feelings during pregnancy disappeared after listening nearly every day to my tape for 'a wonderful pregnancy'. Most of all, the tape helped me to see pregnancy as a totally natural and beautiful event, which has to be enjoyed as much as possible. I learned to see the female body as perfectly designed to cope with all the extra strain of pregnancy. Encouraged to eat healthily and to keep very fit, I felt attractive and happy throughout the nine months. I did not suffer from changing moods, high blood pressure or stretch marks and two minor varicose veins disappeared immediately after having given birth. During the last term of the pregnancy, I followed Paola's programme for a painless and relaxed natural birth. It prepared me perfectly to see labour as a natural and necessary process and taught me how to utilise the rhythm of the contractions to support the birth process and how to breathe correctly to reduce the pain. I learned to trust my body to be designed for the task and to see every part of labour as a purposeful step towards its final stage, the actual birth of the child. Finally, I gave birth to a healthy and relaxed baby boy exactly on his due date. Labour only lasted about seven hours and for pain relief I merely used gas and air and the visualisation and breathing techniques from Paola's hypnobirthing tapes. I thoroughly enjoyed the birth and found it easy to cope with the pain. After having given birth I recovered extremely fast and found breastfeeding a very natural and easy process.It seems the relaxed nature of my son might well be the result of 'our' listening to the relaxation tapes during the pregnancy.To make pregnancy and birth enjoyable and natural events I strongly recommend hypnobirthing as the main step towards it.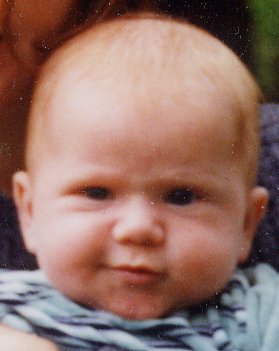 Baby Stefan
Gail Hawthorne, Biggin Hill, Kent – second baby VBAC (first baby breech) – 5.7.2006
My first baby was delivered by C section at 42 weeks, because he was breech, without me having experienced any labour at all, and as he was also very large (with a big head!) I wasn't very confident about having my second baby naturally, as I wanted. Having heard some very positive stories from women who had had hypnotherapy with Paola I decided to try it.
After the first session my baby turned from being in breech position to head down, and fortunately stayed that way. I went into labour naturally a couple of days early (as I'd requested Paola to include this on the tape – wanting to avoid the potentially large size of an overdue baby) and after a four hour first stage and an hour of pushing I gave birth naturally to Alex, a baby boy, having only used a TENs machine and Paola's techniques for pain relief.
I don't think it is a coincidence that my body obviously was able to open up and work efficiently to get the baby out, and would definitely recommend Paola to help you have a positive and natural childbirth experience.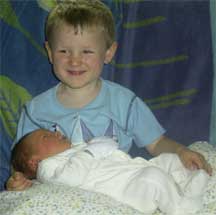 Oliver with baby brother Alex one week old
Sarah Findell, Cousldon, Surrey – first baby – 27.10.2006
Thank you so much for your help and support, I have no doubt at all that working with Paola allowed me to give birth to my new son the way I had intended. We had a totally drug free and natural labour, using the relaxation and breathing techniques Paola had taught me. I also felt totally confident during labour and am convinced that hypnotherapy also kept our son calm and healthy throughout that experience.
Since the birth I've healed very well and very quickly too and again this is the same for our new son. His cord stump was healing within days and was off completely before the end of his first week.
I'm immensely grateful to Paola for all her experience, wisdom and guidance and would recommend hypnobirthing to any expectant mother.
Noah Findell, 2 hours old – with his happy Mum and Dad – and in his car seat
Sarah used the same CD for her second baby and sent me an email 11.7.2008
Hi Paola,
Hope all is well with you.

 Just wanted to pass on the news to let you know we've had another gorgeous baby boy – Arthur AneurinFindell.
 Born 30th June weighing in at 9 lb 2.
Had another brilliant birth at the Mayday birthing centre, but failed to get into the birthing pool again – this time because he was born too quick!
All very calm, pool was filling up, when very suddenly my waters broke, I was fully dilated (having been only 4cms moments before hand!) and was desperate to push. I did so – and two pushes later he was out. Recorded 12 minutes on the notes.
 Bit of a tear unfortunately as he was so big and fast, but it was wonderful to have it all over with so quickly – all without any pain relief whatsoever – thanks again to your hypnotherapy techniques.
Wanted to let you know as the midwifes were really impressed. We had a student midwife who said she wanted to write up the labour as part of her case studies – both said they wanted to look more into hypnobirthing as they'd seen me go completely into myself and keep calm through each contraction. (I was eyes shut and on the bed this time, which really seemed to work for me!)
Have to say, I did start to panic a bit when it suddenly sped up, but it was all over so quick it really didn't matter. So there you go – another Findell born completely naturally. Thanks again for all your help – we couldn't do it without you!

I think we're all done now having got our family of boys, but should there be any more babies we'll be in touch!
Hope all is well with you and the hypnotherapy business!
Sarah and Lee
- xx
Emma Johnson, Old Coulsdon, Surrey – second baby – 29.4.2008
 – Emma sent me this testimonial February 2009
I sought Paola's help in the late stages of pregnancy and in a state of some trepidation about the impending birth of my second child. I had a negative experience with the birth of my first child who was born by caesarean due to his large size of 10lb. I was hoping to avoid a repeat of the previous stressful circumstances and if possible was hoping to avoid a second caesarean.
Instantly Paola's calm and positive manner put me at ease and instilled a quiet confidence in me, which slowly turned my fear into anticipation and excitement. I started to believe that I could do it – not only survive the birth, maintaining the sense of control that was lacking before, but actually to enjoy the experience. For the first time I looked forward to the birth. My partner and I had two sessions with Paola and then used the CD that she prepared especially for us.
We worked on our expectations for the birth; preparing for the process of labour; regulating the size of the baby – hoping that this time the size would be more manageable than previously; my expectations of breastfeeding – because of my sense of failure at giving up after 6 weeks the first time around because it was so painful. I went into labour on time (something we had also worked on) and moved swiftly and easily through the fist stages, arriving at hospital half-way dilated.
Unfortunately the hospital staff had not been working with Paola and it was clear that their expectations were of a second caesarean rather than a natural birth. They insisted on keeping me on a monitor, which kept me still and slowed the process down. My partner and I managed to remain calm in the face of this disappointment, something that would not have been possible without the techniques we learned from Paola and after 36 hours of manageable labour we finally agreed to the caesarean successfully negotiating a simultaneous sterilization which was something of a consolation prize.
Baby Elsie, when she arrived, was certainly not a consolation prize. She was beautiful, healthy and contented and only 7lb 4oz! Although breastfeeding was initially painful I was able to persevere, quietly and resolutely, thanks to Paola's techniques, and six weeks later the pain disappeared completely and breastfeeding became easy and wonderful, just as Paola had said it would be. I am still doing it nine months on and that is a real joy! I know that Paola's intervention made all the difference between this and my previous experience. I would recommend hypnobirthing to any woman, but particularly I would recommend Paola, because she helped me turn negative expectations and unforeseen circumstances into a totally positive experience. My advice to any nervous pregnant woman would be to see Paola and make the very best of your birthing experience.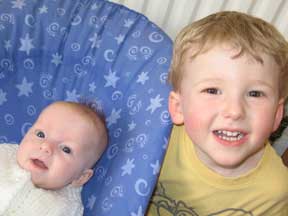 Baby Elsie with big brother Stanley
Katie and Daniel Darwin, West Wickham, Kent – first baby born 15th June 2009
 – Katie sent me an email 5.8.2009
Dear Paola,
A huge thank you for the wonderful hypnobirthing recording you made for me. I listened to it every day for the last 2 months of my pregnancy. I looked forward to this 'time out' each day and felt so relaxed, happy and actually looked forward to the birth.
Eddie was born at home on 15th June, 2 days before my due date. I found the contractions very manageable, I used a TENS machine and only used gas and air during the transition stage. I believe the visualisation and relaxation techniques from the hypnobirthing got me through. The midwives, my sister and husband couldn't believe how calm I was during the entire labour.
I have been recommending you to all my pregnant friends. I really miss listening to my recording each day as I found it so relaxing, I suppose I would find it hard to get time to do it now anyway!
Thank you once again,
Katie and Daniel Darwin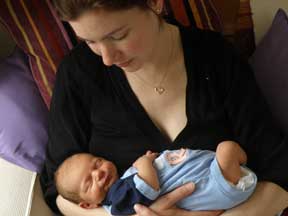 Katie and Eddie
Sarah Jewell, CANADA – first baby – 4.1.2011
Sarah was recommended to contact me as she was told her baby was breach. We talked over the phone and I sent her a Hypnobirthing CD. Once she had listened to that and knew about self-hypnosis, we had another phone call, and I was able to teach her how to work at turning her baby. Unfortunately this process was not successful. However, the Inner Power Hypnobirthing did allow her to have a magical birth experience as it should be.
Sarah sent me this email 12.1.2011
Hello Paola,
Just letting you know that we had a little girl, Isla. She was born on Tuesday the 4th of January, via c-section. Although it wasn't the natural birth we had hoped for, it was still very calm and very special – we put this down to our hypnobirthing training. There were no nerves, just happy anticipation.
Thanks again!
Sara and Isla
Angela Schroeder, Sevenaoks, Kent – second baby – born 2.4.2011
I used the Inner Power Hypnobirthing technique to get over the fear of having difficulties during my 1st labour and was amazed at the results, the techniques worked wonders and baby Oliver was born within 5 hours of the 1st contraction as my body was just so relaxed. It helped to keep me focused on the breath and with the help of my husband talking me through the techniques Oliver was born in the water pool without any intervention' we are thrilled, the whole experience has been so healing!
Oliver just born in the birthing pool with his ecstatic Mum and in his first clothes
Gaelle Blake, Beckenham, Kent – second baby – born 23.5.2011
Gaelle sent me an email 23rd June
Hi Paola,
I wanted to let you know about the safe arrival of our son, Frederic Blake. He was born exactly a month ago- Which has flown by.
He was 8 pounds 9 oz- nearly 2 pounds heavier than his brother. Despite him being back to back during the labour, I found the relaxation techniques helped to keep me relaxed.
I only had a small natural tear at the end of it and have healed really well. The breast feeding is going very very well- he never lost any weight and is now 11 pounds- which puts him in the 93rd percentile of baby boys- perhaps a future rugby player?!
thanks again for all your help
Gaelle
N M, Biggin Hill, Kent – second baby born – 14.5.2011
Dear Paola,
I gave birth to a lovely little boy on 14th May. It was a good labour and I used your recording throughout the first stage of labour. Second stage was a little more difficult as he's a big chap (9lb 5oz at birth and wearing 3-6 month clothing at 4 weeks) but still okay. I didn't tear at all and pushed him out using gas and air. We left the hospital 2 and half hours later and I woke up the next day feeling the best I'd felt for 7 months! I feel as if I bonded immediately with Blake and even on difficult days I don't have the feelings that I had with my first son when he was a baby.
Thank you so much for your help, I know I wouldn't be as contented and enjoying motherhood so much without having had the hypnotherapy.
I hope you are well,
N M
Lucie Ellis, Chelsfield, Kent – first baby born – 29.5.2011
I just wanted to let you know that we now have a beautiful baby boy and we are very much enjoying our new family. Michael John Ellis was born on 29th May by emergency Caesarian. It wasn't exactly the birth we planned but we have a beautiful healthy baby so that is all that matters. I just wanted to say thank you for your help and support in the run up to the birth. We did everything we could to try and have a natural birth and I was fortunate enough to start labour naturally but it just was not to be. I am happy to say that the techniques you taught me helped me relax in the last few weeks of pregnancy and the early stages of labour. Unfortunately my blood pressure was very high and although i was coping brilliantly with the pain, I was advised to have an epidural in order to lower my blood pressure (It was only after this that things started to go down hill). I have also been able to use the deeper breathes in order to stay calmer in my role as a new mum.
I am very glad that we tried hypnobirthing and I will recommend you to my friends. Steve and I are hoping to be able to use your techniques in a couple of years time when we will hopefully try for a more natural birth the second time around!
Thank you very much for all your help.
Lucie& Steve Ellis
Annabel Dow, SE 23 – second baby born – 28.6.2011
I had to be induced for the births of both my children, but for the second one, Susie, I had been to see Paola for some hypnosis sessions and I felt much better prepared and relaxed than the first time round. Susie arrived quickly, within around 3 hours, and I recovered much, much quicker than I did before. Not only that but I also regained my figure much more quickly too. Altogether a much better experience!
Many thanks,
Annabel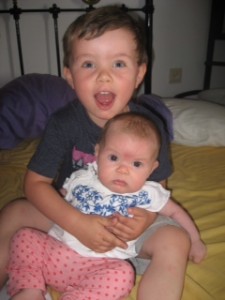 Susie with big brother Eric
Emma Paget, Caterham, Surrey – third baby – 4.11.11 – Emma came to see me for anxiety mainly as she had had two miscarriages. She wanted her baby born on her due date.
She sent me this testimonial 23.11.11
Hypnotherapy sessions were initially recommended with you by my doctor after I started suffering from anxiety and panic attacks whilst pregnant, these feelings appeared to be related to 2 miscarriages I had suffered prior to this. After the hypnotherapy sessions I used my 3 positive affirmations, my special place and colour to remain calm and focused when feeling anxious. Over the next few weeks I found I felt much calmer, in control and the panic attacks stopped. I continued to use the hypnotherapy recordings you made for me and as my due date approached I focused on practising your techniques so that i could use them during labour.
Hypnotherapy sessions were initially recommended with you by my doctor after I started suffering from anxiety and panic attacks whilst pregnant, these feelings appeared to be related to 2 miscarriages I had suffered prior to this. After the hypnotherapy sessions I used my 3 positive affirmations, my special place and colour to remain calm and focused when feeling anxious. Over the next few weeks I found I felt much calmer, in control and the panic attacks stopped. I continued to use the hypnotherapy recordings you made for me and as my due date approached I focused on practising your techniques so that i could use them during labour.
I read your book and listened to the CD in the couple of weeks before the baby was due. I then mainly listened to your CD's that you had recorded for me especially the second one which was relevant leading up to the birth.
Can you believe that my little girl was born on her due date the 4th November!
I woke at 2am with a couple of contractions and my waters had popped, got to hospital about 3am, in the pool at about 4am and she was born at 6.25am. I used gas and air and visualised my special place during each contraction, which I found particularly helpful in keeping me calm, focused and getting me through each pain. So a very quick though intense labour, which was a very positive experience, and your support and help with the Hypnotherapy has been fantastic.
So Nancy was born at 6.25am on 4th November, her due date, weighing 6lb 15oz. She's wonderful, settled into our family beautifully, absolutely no bother at all and the whole family is smitten.
I have found self-hypnosis and the other techniques you have taught me to help me remain calm and panic free invaluable and life with our new little girl couldn't be better.
Thank you so much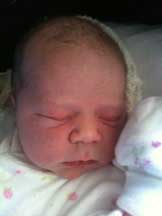 contented hypnobirthing baby Nancy
Charlotte Phillips, Chelsfield, Kent – second baby – came to see me because she had had a traumatic first birth. She sent me this email 14.12.11
Hi Paola
We welcomed Georgia May Phillips a couple of weeks early on 3rd December 2011. It was all a bit unexpected and quick – I was induced & once contractions started, Georgia arrived within 1.5 hours! My place transformed on the day from the beach to the champagne bar, as the feeling of the gas and air, made me feel light-headed. Anyway, that worked really well and everything went far better than last time.
Thank you so much for your help and support, I really feel it was a great help.
Kind regards
Charlotte & Nick Phillips
Sarah Ball, Penge, SE20 – first baby – 4.12.2011 –sent me this email
Hi Paola,
Happy New Year!
I've been meaning to email you to let you know about the birth of our son. Daniel/Danny was born a week late on 4th December. He's just lovely and we're really enjoying having him here at last.
Thanks for your help, with teaching me how to use hypnosis. It definitely helped me feel calm in the run-up, and in the early stages of labour. Unfortunately it all went out the window once the contractions really got going and I opted for the epidural. Having the pain relief really helped me though, and I enjoyed the rest of the labour, staying calm through a prolonged second stage and a ventouse delivery, plus a few stitches (I had just a small tear which I was pleased about). I'm sure that the hypnosis was part of what helped me stay calm so thanks for that. Me and Ian got a lot from your sessions.
Hope you are well and all the best for the future.
Sarah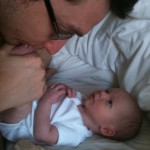 Danny with his Dad
Natalie Dickens, Penge, SE20 – second baby 22.11.11 – wrote me this testimonial 14.2.12
This is my second birth using Paola's Hypnobirthing.
My waters broke at 9.10, contractions started immediately, strong and at 2-3 minute intervals. I phoned the Oasis birthing centre in Farnborough Hospital at 9.30 and went straight there. A pool-room was free, and I was taken straight through, the pool was run in no time and Ned arrived at 12.40 weighing 8.11.
I felt very much in control and confident. It was a great help to be able to freely move around in the water. Gas and Air, breathing and hypnotherapy techniques were easily enough to cope with the pain.
The baby's heartbeat showed him to be very chilled throughout.
I could see him being born, and he was placed straight on me and he began to feed immediately (and he hasn't stopped since!).
The midwife, Julie Houlton was superb, always calm and reassuring but let me take the lead. She had 2 fantastic ladies assisting, Lisa and Penny – it made such a difference found the 'dial' turning the pain down, the 'white light' techniques worked very well, and could recall the sound of your voice which was very calming.
I struggled with my visualization image, but instead focused on my son Tom's face which did the trick.
I cannot recommend the Oasis Centre enough.
And, naturally I will be recommending your services to anyone I know who is expecting – I know it would not have been anywhere near the same experience without the tools you have taught me.
Keep in touch
Best regards
Natalie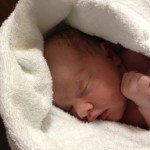 Baby Ned and with big brother Tom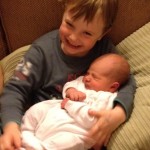 Sophia McEwen, Petts Wood, Kent – first baby – 1.9.2012
After my 3 sessions with Paola and listening to her CDs I felt empowered and really confident about the impending birth of my first child, despite being 41 and being told that she was a big baby. My husband pointed out that Paola had given us so much information about what to expect through the pregnancy and afterwards that we didn't attend any other antenatal classes. Her book, BIRTH MADE EASY, was excellent for reference too – factual and concise.
In the event my baby was transverse so unfortunately I had to have a c-section but even so I was confident and joking throughout and made a very quick recovery. We are enjoying parenthood, breastfeeding is going brilliantly and we have a very content child, which I credit to the calmness Paola has instilled from mid-pregnancy onwards.
I would recommend Paola to any parents-to-be, without hesitation.
Sophia McEwen, proud mum of Lilly-Anna.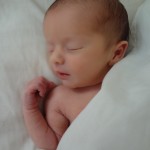 peaceful Lilly-Anna
Sarah-Anne Fernandes, Beckenham, Kent – first baby – 30.8.2012
Paola, we would like to thank you very much for all your support with the safe arrival of our baby boy, Isaac. We are really grateful for your calm and positive approach that clearly made such a difference during my pregnancy and most importantly during the birth.
The process of hypnobirthing with you was so easy and such a comfortable experience. I really valued how you personalised my CD so it focused on my specific needs . I was calm and excited as my due date drew closer, two things I thought I would never feel before undertaking hypnosis with you! In fact, close family could not believe my calmness and even on the day of labour the hospital was reluctant to admit me as they were not convinced I was in established labour due to my relaxed state!!
I will no doubt be recommending you to any of my friends who fall pregnant as it was not just the hypnosis but also the wealth of experience and tips that you have about successful child birth that helped us feel so prepared. Thank you again!
Charlotte Martenstyn, Bromley, Kent – first baby – 15.1.2013
Charlotte sent me this email 2nd February
Hi Paola,
I just wanted to let you know Esme arrived safely 2 days early on 15th Jan. I managed a water birth at the oasis centre as planned. Thank you so much for all your help, the CD was a great help in the lead up to the labour. She is doing really well. She is very chilled out and breast feeding successfully.
Many thanks again,
Charlotte Martenstyn
Rose Kay, Bromley, Kent – first baby – 12.2.13
Rose sent her birth story by email 16th February
Hi Paola!
Just to let you know that Ella Mae Richter was born at 6.10pm on 12/02/13, weighing 7lb 2!
I had gone over my due date by 5 days, but had been having mild period type pains for a few days, so hoped that things would start happening soon! At 4am on Tuesday 12th Feb, I woke up with more regular period pains and realised these must be contractions. I called the Oasis and they said not to come in until I was having 3 contractions every 10 mins. My partner, Lutz, started timing the contractions on his iPhone contraction timer app. By 9am, they were every 7 minutes, but not that painful. I was able to cope by taking paracetamol, yoga breathing & the relaxation techniques you taught me, and sitting in a warm bath. We went for a long 2-hour walk at 11am to speed things up – it really worked! By the time we got back home, they were every 4-5 mins apart and I was finding it a bit more difficult. By 3.30pm, they were every 2-3 mins apart and I told Lutz to drive me to the Oasis as I couldn't cope at home anymore! By the time we got to the Oasis and I was examined at 4pm, I was fully dilated and, right on cue, my waters broke all over the midwife while she was examining me! I started on the gas & air, which really helped. They filled the waterpool and I got in, pushed for an hour and Ella was born at 6.10pm. She was so calm when she was born and hardly cried at all, which the midwives said is common with waterbirth babies. I only had one small 2nd degree tear, which was stitched up and seems to be healing really well. The birth was so much easier than I had imagined it would be, especially with this being my first baby. I'm amazed that I managed to get to being fully dilated at home on nothing but paracetamol and yoga breathing & relaxation techniques!
I think the hyponobirthing played a big part in my positive experience. I was able to stay at home for as long as possible, which was the best place for me, and didn't panic. Thank you so much for teaching me the techniques.
I've attached a photo of Ella a few hours after she was born, and one of us taken at 3 days old.
Thank you again. Rose xx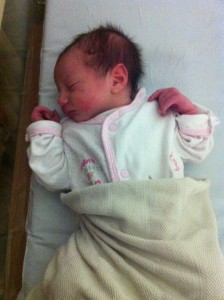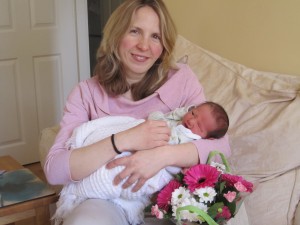 Melanie Willis, Haughton, Louisiana, USA – had her second baby, November 2012, using my book BIRTH MADE EASY, and the free CD that comes with the book, after a negative first time experience.
Melanie sent me this testimonial 22.2.2013 via Facebook
Hi Mrs. Bagnall
I searched for a hypnobirth book on amazon kindle and found your Birth Made Easy first. I downloaded it and read it and listened to the MP3 track for the book from your website every night for my last trimester. I found hypnosis and meditation to come easy to me. I listened to your mp3 during my 11-hour labor and your voice guided me through every contraction, like a labor coach. I remained in hypnosis the entire time actually sleeping between my 2-minute apart contractions. I had a successful natural child birth without fear and full of peace, thanks to you. Thank you so very much, it was one of the most amazing experiences of my life, I learned how to trust my body and not to be afraid.
Melanie Willis.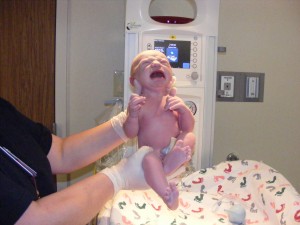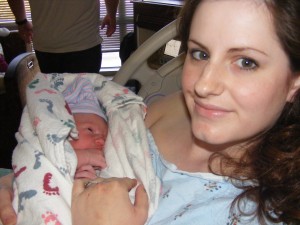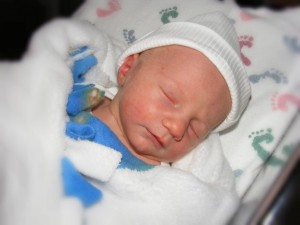 Christian 2 minutes old, with Mum Melanie 20 minutes old and one day old
E I, Perth, Australia – had her first baby July 21st 2013, using my book BIRTH MADE EASY and its free CD. She put this review on Amazon. Please note that the Kindle version does also come with a free CD as there is a link in the book to download it.
I just had my baby, on 21 July 2013. Today is Day 5. I would just like to say that this is without doubt the BEST $20 I have spent in my life. I had an incredible birthing experience, completely free of any drugs/synthetic hormones/TENS machine. I didn't even use a heat pack or the bathtub as your methods allowed me to simply visualise the relief. I also used active birthing, i.e. I delivered in a kneeling position. I also followed your advice on perineal massage. My perineum is completely intact, and I was up and about right after skin-to-skin contact and the first breastfeed. My baby is so calm and contented as well; I am sure that your pregnancy methods that I used while practising with your CD had a significant part in this, as I have had an extremely stressful pregnancy. I feel my incredible childbirth experience has really empowered and prepared me for motherhood. The midwives and doctors in the hospital said it was the calmest birth they've ever seen, and a nurse took a photo of my book! The female body is designed to give birth, we forget that in these days and time. Thank you, Paola, for reminding us.
Rebecca, Bromley, Kent – first baby born September 2013
Hi Paola
I saw you for my last hypnobirthing session in the summer. Well, I'm excited to tell you that baby Merlin was born safely in September!
We had the perfect home water birth that we'd planned! I was in established labour for just 9 hours and he was born very easily in the birth pool. Undoubtedly, your CDs helped me though the experience! I was able to get some quality sleep the day before whilst listening to your recording which gave me a reserve of energy, and when I woke up in the night having contractions, everything progressed so quickly and smoothly! I spent the entire time pacing around our flat and on the toilet. It was exhausting but over so quickly and certainly not the terribly painful experience most people claim it to be!
Thank you so much for helping me achieve the birth I dreamt of!
Thanks again for all your help with the hypnotherapy.
Best wishes,
Rebecca
Paula Whyte, UK – had her 3rd baby 4.2.2014, using my book BIRTH MADE EASY, which she got from Kindle with the Free MP3 download
This was my 3rd pregnancy & I was scared of labour. I read this book & listened to the audios, which relaxed me more than I could ever have hoped. In my 1st stage I listened to the audio file over & over. I even repeated the affirmations during my transition stage. There were even some contractions that I managed to smile through. This book was my bible antenatally & postnatally. The dextrose recommendation was fantastic. Paola knows her stuff & that made me feel confident. I gave birth without pressure relief using the hypnobirthing methods & a TENS machine. This book really made birth easier & I could not recommend it enough. Thank you Paula Whyte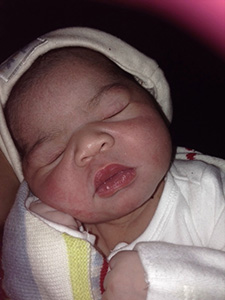 baby Maleah a few hours old
Julie Stabler, Bromley, Kent – 3rd baby born naturally after two ventouse deliveries – 9.4.2014 – Julie posted this review on my Facebook Page 2 days after the birth!
I have used Paola in the last 2 of my 3 pregnancies and I can't thank her enough for the support and techniques she has shown me. Having just had my 3rd and last child I was really hoping for a totally natural birth due to the previous 2 being assisted and I can happily say that was exactly what I got. 5 hours of labour most of which was in the pool and ten minutes of pushing and my baby boy was born … Thank you Paola for all you have done for me to get the 3rd birth I truly wanted xx
Sonia Caton, Maidstone, Kent – second baby born easily after a difficult first birth – Sonia sent me this email 31.5.2014
Hi Paola,
I'm delighted to let you know I gave birth to our baby boy on Wednesday. It was a super fast labour, starting and finishing all while our other little boy was at nursery! He weighed 7Ibs exactly and we've called him Jack.
I wanted to say thank you as the hypnotherapy techniques really did make a huge difference. I was really calm throughout the labour, which is obviously why it progressed so quickly and I found it so much easier to breathe and focus. The delivery was over in about 10 minutes and just as you had said he should be, the baby was completely clean when he was born.
My husband said he couldn't believe how much calmer I was this time and how quiet I was! I'm so pleased I took the time to see you and listen to the CD in the few weeks before the birth, so thanks again. I will definitely be recommending hypnobirthing to others in the future!
Sonia x
Menaka De Silva, Birmingham – second baby – Menaka sent me this email 9.10.2017
Menaka had seen me in 2013 for her first baby and so we worked by telephone for baby 2!
Hi Paola,
How are you? Hope all is well. I thought you would like to know that on wed 4th October, our daughter (nameless at the moment) arrived with no difficulty. I can't thank you enough for all your help as this time, the labour was such a positive experience even with my anxieties after the last time.
My waters broke at 7am, I stayed in the bath for some time doing my breathing and visualisations. Got to the hospital at 10am and was fully dilated, and by 10.59 she was here!. No drugs, complications or tears, so it was a quick and positive experience! Hypnobirthing definitely worked, so thank you again.
Regards
Menaka xx
Testimonials – Hypnobirthing Training Workshop
Georgina Mc Kinnon August 2009
The quality of this workshop was outstanding, teaching of the highest standard and by a teacher who loves the subject and it absolutely shines through.
Angela Slattery April 2011
The whole subject of childbirth was covered in good detail and plenty of guidance on how we can help women to experience the best possible childbirth they can. Thank you very much!
Sue Burden April 2011
This has been a marvelous day. I have enjoyed all of it. You have motivated and inspired me to go on with this technique. As a retired health professional who worked with new mothers I wish I had met you years ago.
Jackie Whitworth April 2011
Thoroughly enjoyed the course and I learnt a good deal. Thank you.
Chris Eggington April 2011
An extremely informative, enjoyable and positive course.
Chris wrote of my book BIRTH MADE EASY – It is such a brilliantly written book, it really is something special. It's going to be my bible for any hypnobirthing clients I get in the future! I really hope it can help expecting mums all over to have a better birth too. Congratulations on the book and getting it out there!
Pam Lob April 2011
An excellent well delivered course. Your passion on your subject shows.
Sophia Steeden July 2011 by email July 2011
I just wanted to email to say how much I enjoyed the course on Saturday. I found you to be very motivational in every aspect of teaching as to the techniques you use, and the knowledge that you have gained over the years.
I have already contacted Bach for leaflets, and am now putting together text for a new page on my website offering Hypnobirthing I have already put together some handouts for my clients and prepared the text for my leaflets and can't wait to get started.
Thank you again, and I hope you do another course at Serenity soon as I have told my friend how fulfilling the course was.
Take care and I hope to see you again.
David Selway July 2011
An interesting, informative and practical course which I am confident I can use "off the shelf" in my practice.
Lesley Rosslyn April 2012
Lesley sent me this email – she attended the workshop 2011
Hi Paola
I have just received an email from my first hypnobirthing mum (client) who delivered on Tuesday.
I feel really proud. Like when I became a grandmother to my own kid's babies.
Thank you for your brilliant course. I found it hugely beneficial when dealing with clients for hypnobirthing.
kind regards
Lesley Rosslyn
Chris Ashley July 2012
I have attended Paola's Hypnobirthing Workshop, which I have found very interesting, stimulating and informative. I was so impressed with Paola's passion and depth of knowledge on the subject. Thank you so much, I can't wait for my first client.
I would also like to add that her teaching background also shines through, the whole presentation of the course was very structured and professional.
Alan Sheppard July 2012
I thoroughly enjoyed the course, well structured, organised and clearly presented by someone who is clearly passionate about the subject.
Alison Worsley July 2012
Alison sent me this email
Hi Paola,
Just wanted to say that I really enjoyed the course on Saturday. I'm so glad that I chose to do the hypnobirthing course with you because you are you are so passionate & motivational about the subject that I came out of the course feeling very positive & I'm looking forward to now adding hypnobirthing to my other areas of hypnotherapy.
If you do ever decide to teach any other workshops or courses in other areas of hypnotherapy then I would certainly be interested in coming along.
Thanks so much again
Kind Regards
Alison
Vicky Mason July 2012
Excellent course, full of really useful information. All very enjoyable. Very practical and directly usable learnings, which will be easy to implement. Thank you!
Pauline Kelly July 2012
An experience not to be missed! The course was so informative, on a subject as mothers we think we should know about, and was given so well by Paola. Her words are an inspiration to do this work and help others in confidence. Thank you.
Elaine Hodgins July 2012
A very good course, extremely informative, very well presented and a good mix of informative and humorous content. Well done and thank you Paola.
Zoe Basil July 2012
Really useful and comprehensive course covering everything and much more – thanks for a great day Paola. You have so much drive & enthusiasm; you're a great inspiration.
Monika Kralj July 2012
Thank you for running the course. I found it very useful and informative. Especially the biological side of the pregnancy and birth. You made it sound so easy! 🙂 The whole day ran so smoothly. Now, I only need to get out and find mummies-to-be.
Emma Johnson November 2013
Fantastic Paola. Well done!
Marcia Tillman November 2013
Really enjoyed the course, very informative. Paola was very generous with her knowledge. I've been a hypnotherapist for 11 years and I learnt a lot and feel confident in offering my own workshops in hypnobirthing.
Ruth Shaw November 2013
This workshop reminded me of how much I know and how much women 'know' already and affirming them for their power to birth naturally as the female body is beautifully designed to give birth. Thank you Paola
Julie Taylor November 2013
I found the relaxed, informative teaching style that Paola has allowed me to understand the programme easily. I feel excited to get started as Paola's clear passion has inspired me.
Emma Walsh March 2014
Paola was a wonderful teacher who engaged with you through the entire course.
Charlotte Crowther March 2014
A Fantastic course! Clear, concise information given, and many handouts given too. I feel empowered to teach hypnobirthing to clients and to spread Paola's 'Inner Power'.
Dominique Ampe March 2014
I really enjoyed the day and the knowledge and delivery of the hypnobirthing training was excellent. Thank you.
Sandra Lamb March 2014
Excellent day – so much great information, that can be used immediately to start implementing hypnobirthing techniques with clients.
Andree Hatton March 2014
Thank you Paola for a very informative, enjoyable and useful course. Relaxed atmosphere and lots of information.
Chalene Long March 2014
Very informative and interesting! Felt apprehensive about branching into hypnobirthing, but this course has given me the confidence to move into this area of hypnotherapy.
Ann Hamilton September 2014
I enjoyed the day workshop and found it very useful with lots of really sound advice based on Paola's experience and knowledge. I look forward to working with this training as a Practitioner. Also I am expecting my first grandchild and I cannot wait to convey the information to my daughter and son-in-law. Thank you Paola
Amanda Davey September 2014
A very informative course that ensures participants feel knowledgeable and empowered to help prospective parents through pregnancy and birth
Jaclyn Ansbro September 2014
Paola is a wonderful teacher, her book is easy to read and the course was extremely interesting.
Kathleen Gander September 2014
Thank you Paola for such a passionate workshop today. Your depth of knowledge was appreciated greatly. I am going away more energised and educated for hypnotherapy.
Sue Lee September 2014
Great course, thoroughly enjoyed it. Paola is so knowledgeable and has such a passion and enthusiasm that is infectious and has made me want to go out and get started with my clients!
Patrick Baron September 2014
Really competent, experienced and passionate teacher. Very happy I did the course.
Mara Sheldon September 2014
Clear communication and teaching techniques. Well-planned day, good speed of delivery and interactive discussion. Thank you.
Vernon Harris September 2014
This course was extremely interesting and it was explained in a clear manner. I am confident that from this course I can become a successful hypnobirhing practitioner. Paola made it easy and fun.
Janet Phillips October 2015
The Biology lesson was great – lots of info. Thank you for the generous sharing of everything else too. A very enjoyable day – thank you.
Natasha Naylor October 2015
Clear, concise, manageable information. Friendly, small group, plenty of time for questions, good handouts. Thank you.